Are There Any Generic Diaper Genie Refills?
Lionpapa generic Diaper Genie refills compatible with Diaper Genie Expression, Complete and Elite are right here for you!
Parents who have babies in diapers would probably regard the Diaper Genie pail as a great invention. It helps new parents solve one of the hardest issues: the terrible smell.
With the genie trash can, you can well seal the smell, and it only requires to be emptied once in two weeks, leaving you more time with your lovely baby.
However, anyone who uses a Diaper Genie knows that the Diaper Genie refills are expensive.
Even when you stockpile diaper pail refills at sale or places like Costco or Walmart, the cost adds up. And if you have more than one kid in diapers at the same time, you have to replace the refill bag often.

The arrival of kids creates happiness in the home, at the same time, while increasing the financial burden of the family.
Baby formula, baby bottles, crib, child safety seat, bathroom goods, etc. They all need money.
That's why we are talking about generic Diaper Genie refills.
Diaper Genie refills of the name brand cost $18.49 for 3 packs and $47.99 for 8 packs.
Let's say, on the conservative side, you just use 1 pack of refill bags a month for 1 child. You will use four 3-pack refills, $73.96 per year! If you have 2 children in diapers, the cost will double.
There is no doubt that it is a huge cost.

Fortunately, it can be greatly reduced if you replace the original refill bags with a Diaper Genie refills alternative.
Let Lionpapa Diaper Genie refill fit for Diaper Genie Expression, Complete, and Elite help you.
In general, it cost $15.99 for a 4-pack, only $4 for each pack. If you buy a set of 16-pack, $58.99, only $3.68 for a pack.

The last thing you need to worry about is the quality. Lionpapa aims to provide you with the same quality diaper genie refill bags at the cheapest price.
11 layers refills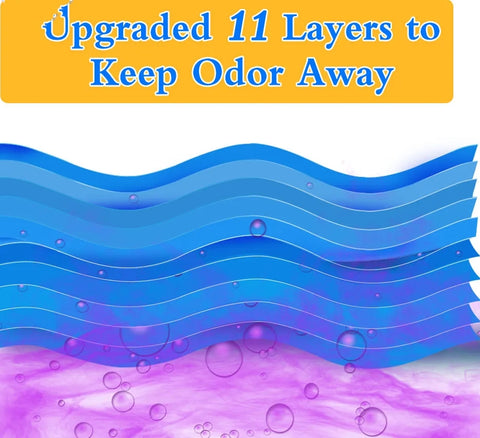 Some parents have tried Diaper Genie refill bags of other brands and had a bad experience: these bags are cheaper than the name brand but too easy to tear.

The same thing won't happen if you try Lionpapa Diaper Genie refill bags.

In order to make stronger, more durable and the best Diaper Genie refills, our refill bags are made-in 11 layers of high odor barrier materials. With our Diaper Genie refills, you will be able to enjoy your fresh home and comfort.
Large capacity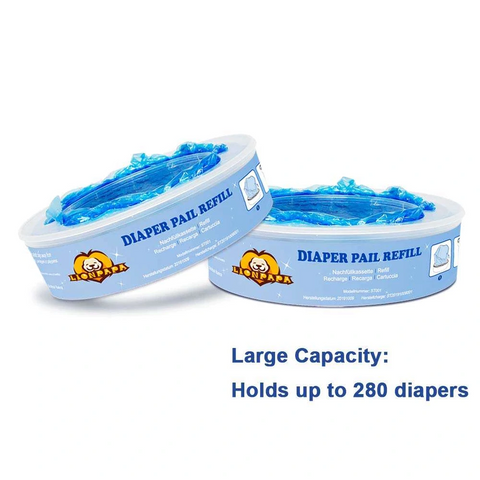 Each pack of the box is 20 feet long and holds up to 280 newborn diapers.
Lionpapa Diaper Genie refills alternative
get you rid of going out to the trash at every diaper change. 
You will have much more time to spend with your lovely baby.
Compatibility for various diaper pails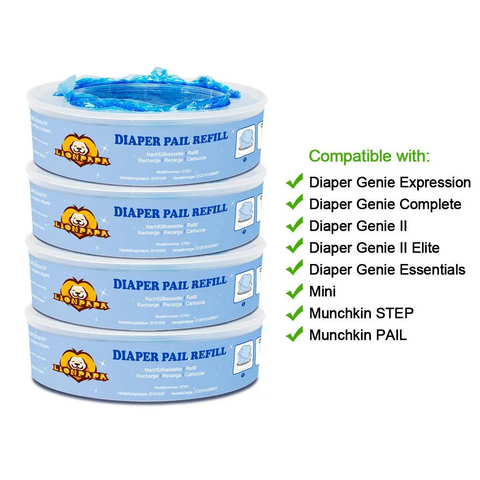 Lionpapa diaper pail refills fit for various kinds of brand pails, including Playtex Diaper Genie Expression, Diaper Genie Complete, Diaper Genie Elite, Diaper Genie Essentials, and Diaper Genie Expression pail replacement.
Our diaper pail refills are also compatible with Munchkin Pails and Munchkin Step replacement, more choice for you.