Want Any Generic Litter Genie Refills? Best Alternatives Here!
First of all, if you want to save your time on reading, let's get straight to the conclusion:
👉4-pack Lionpapa alternative refills for Litter Genie 
---
It is well known that Litter Genie refill is a very convenient tool for cat owners to clean cat litter.
With the special cat litter pail, it can well isolate the smell, and only needs to be replaced once in half a month.
However, anyone who has used the Litter Genie refill knows that refills are expensive!
Even when we bought on sale or at places like Walmart or Costco, the cost really adds up.
People who have multiple cats at the same time like me know the refill needs to be replaced more often.
Not to mention that it is often out of stock.
So when we are talking about a generic Litter Genie refill, we are actually talking about how to save more money on refills while maintaining the same quality.
Generally, the unit price of a Litter Genie refill is $8.99, and a 3-pack of refill costs $27.
One refill cartridge lasts up to two months for one cat, that means you would end up using two 3-pack a year, that's an expense of $54.
And this is only one cat, as far as know, many cat households have at least 3 or 4 cats, that means you should spend at least $190 a year only on disposing cat litter!
This is undoubtedly a huge cost, and this cost can be greatly reduced by looking for a litter genie refill alternative.
That is the Lionpapa litter genie refill fit for Litter Genie Standard and Plus pail.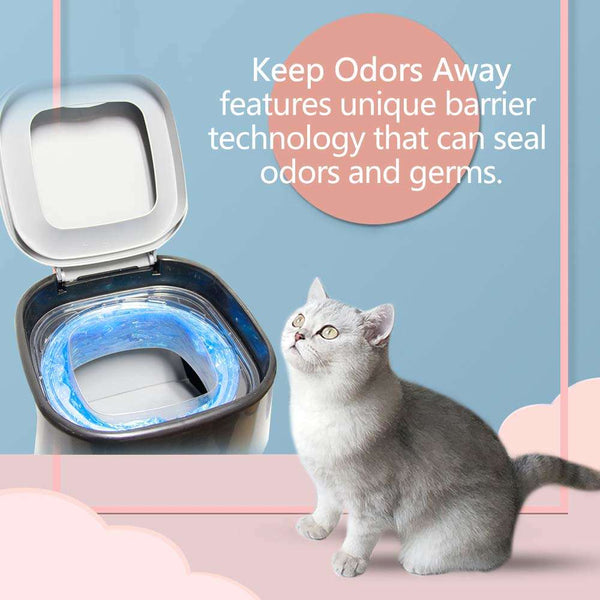 In general, it's $23.99 for 4 packs, only $6 for a pack (Usually only $19.99 when discounted, only $5 for a pack), much cheaper than the name brand, choice refills for litter genie, target litter genie refills, Firik litter genie refills and any others.
In the meantime, Lionpapa also has all the excellent quality comparable to the original.


Why Choose Lionpapa Litter Genie Refills?
Look what our regular customers say about our refills recently:
Better than the name brand in every way

Cheaper, longer lasting, better designed and just as durable as the name brand product. What more could you ask for? They put a little sticker that shows you were to pull to get started. This little change makes it so much better than the name brand. I wasted so much material trying to get the bag started with the name brand product. Thank you Lion Papa for improving on the original design!

----Bryce on Mar 25, 2022
They are fantastic!

We started using the litter genie refills earlier this year and recently ordered more. They are fantastic! No difference at all in the quality and performance when compared to the name brand. And helpful to our tighter budget now that we recently entered retirement. Thank you so much for offering this product. We will be loyal customers for as long as we have our fur babies!

----Kim on Nov 29, 2021
So perfect

Price means a lot when you are literally buying something to throw it away! This product is perfect! The genie refills are of good quality, lower price, so perfect.

----T.M. on Nov 13, 2021
Large capacity
With Lionpapa's cat litter refills, you no longer have to look for cat litter refills every day and change them frequently at the litter pail replacement, and you no longer have to put up with bad smells every day.
Each of its boxes in Lionpapa cat litter refills are 15 feet long, and this large capacity allows your pet to use it for up to eight weeks or even two months.
Cut off the odors
Lionpapa's cat litter refill consists of 11 layers of insulating material.
When you use Lionpapa cat litter refills with litter genie pail replacements, 11 layers of EVOH material with odor isolation technology can lock bacteria and odors in the cat litter refills, keeping your room fresh and comfortable, and making your cat litter refills stronger and more durable.
Universal fit
Don't worry about the incompatibility between Lionpapa's cat litter refills and your cat litter pail replacement.
Except for the Litter Genie XL pail replacement, all of our cat litter refills designs are compatible with Litter Genie's Standard and Plus pail disposal system.
Easy to operate and use
When using Lionpapa's cat litter refills, you just need to pull out a foot of film, push it through the center of the cartridge, and tie a knot at the bottom.
Finally, open the lid of the cat litter pail replacement, put the cat litter refill on it, and push the refill knotted just now to the bottom of the pail.
When you are ready, with Litter Genie's cat litter pail replacement, you can clean up the cat litter in only three steps a day.
The first step is to remove the cat litter with the cat's dirty trash, the second step is to open the lid of the cat litter pail and put it in, and finally, close the lid and pull the handle to seal the bacteria and odor.
Well-stocked
Parents who are familiar with Litter Genie refill may know that there're often shortage of the refills. However, our refills are always well-stocked since we have our own factory and strict shipping plans.
If you have any product questions, please feel free to contact us and we will reply to you within 24 hours. If you are not satisfied with our products, we will provide a replacement, return or refund services for any products you buy on Lionpapa.
If you are satisfied with our products after using it, you can also try to buy multiple at once, because the more you buy, the cheaper the price. When discounted on our brand day, usually 8 packs are $37.99, 12 packs are $54.99, and 16 packs are only $69.99.
You might be interested in our another blog: Litter Locker VS Litter Genie: Which Is Better?