4L Automatic Cat/Dog Feeder with Stainless Steel Tray
Free shipping in the U.S.
Orders shipped in 24 hours and delivered within 5 days.
Shipping policy.
Features for Lionpapa Automatic Cat Food Feeder:
Lionpapa smart electronic automatic cat feeder features for flexible automatic feeding, built-in dual power supply, recording function, two removable bowls, convenient and safe design and free shipping.
Flexible automatic feeding
Lionpapa best timed automatic cat food feeders support both automatic and manual modes. You can set the scheduled time and food portions to achieve automatic feeding. Even if you are traveling on vacation, the automatic cat food dispenser can also work fine.
Our electronic cat food feeder can provide a maximum of 4 meals per day and 20 portions per meal, each portion is 7g±2g (2.5 tsp), and the diameter of pet dry food should be less than 12mm.
The built-in setup program in the programmable cat feeder is also very easy to operate, making it easy to customize a healthy diet for your cat.
Built-in dual power supply
In case of power outage, the smart timed cat feeder is equipped with a 5V DC adapter and 3 alkaline D-cell batteries (not included). To prevent the loss of the preset program, the programmable automatic cat feeder retains the program memory after a power outage and does not need to be reprogrammed. The power cord is woven from durable nylon.
Recording function
The built-in program in the programmable cat feeder is equipped with a recorder function, you can record the usual name for the cat, letting it consciously to eat. This recording will be played automatically before the set feeding time. Recording time up to 10 seconds.
Two removable Bowls
Lionpapa best timed automatic cat food feeder comes with two food-grade removable bowls: one self-feeding cat bowl made of ABS material and one made of stainless steel tray to avoid chin acne for your pet. The tray has a removable design for easy dis-assembly and cleaning.
Convenient and safe design
Our automatic cat food dispenser adopts anti-stuck food design, so the cat food will not be blocked during delivery and has good fluidity. The smart cat feeder also comes with a drying box and a bag of desiccant to prevent food from becoming damp and mildew.
The top cover of the best automatic cat food feeder adopts a buckle design to prevent cats from opening the cover and stealing food during non-mealtime. The cat food feeder shell is also made of food-grade ABS material.
Free Shipping
Lionpapa online store offer free shipping on all our products including the automatic cat food feeder, so you will save more money and time when shopping online.
Excellent customer service
We will offer a replacement, return or refund service if you are not satisfied with our automatic timed cat feeder.
You can contact us at service@lionpapa.com if you have any problem about the automatic cat food feeder, we will reply you in 24h.
Cleaning & Care
It's recommended to clean the feeder regularly for the health of your pet.
The washable parts of the auto feeder are as follows: food tank, food tray and lid (without desiccant bag); they can be submerged in water. Clean by handwashing, using cool or warm soapy water.
- Dissembling the food tank
If you have food inside the tank or chute, press the unlocked button and Feed button for a few times to empty first.
Press the food tank buckles with your thumbs, push the tank upward to dissemble.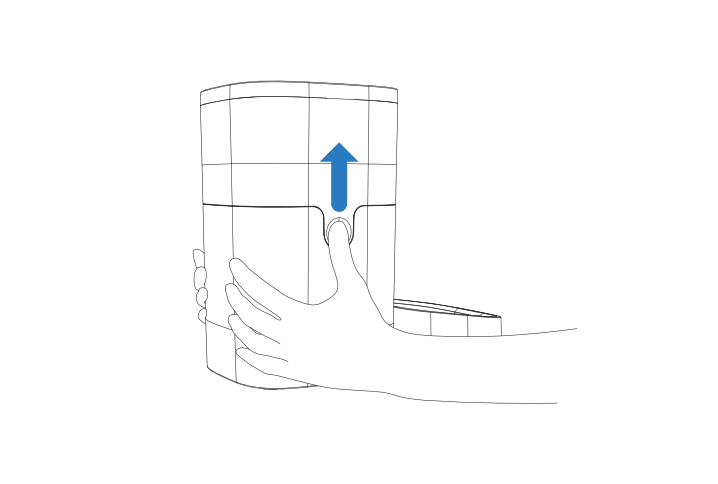 - Dissembling the food tray
Empty the tray, press it down to remove from the base.
Rinse and let all parts air dry completely before assembling.
Note: Be careful not to hurt your fingers when disassembling the food tank by great strength.
Online user manual: Lionpapa Pet Automatic Feeder User Manual
What's included?
1x Automatic Pet Feeder
1x ABS Plastic Bowl
1x Stainless Steel Bowl
1x USB cable
1x Desiccant Bag
1x User Guide Kit
COVID-19 Updates
As the influence caused by the Coronavirus (COVID-19) still evolves, we hope to assure you that all of customer and our employees, and the communities we serve safe. Health and safety will be our top priority in the next period of time.
Shipping and Deliveries
We appreciate your understanding during such a special period that a higher than normal volume of orders and inquiries.
Please note that it will be not easy for all of us in this special period, we are still working hard to help all customers. We commit to ship all orders as quickly as possible while maintaining a safe distance. Now some order may take longer to arrive your place, since we are taking many steps to ensure our employee and product safety. But most of the orders will get delivered in 6 days.
According to the logistics and transportation services in each region, orders placed online are expected to be delivered in time. But we cannot guarantee all of them would be delivered in time.
You may have questions about your order, we have answered a few questions here
Where can I check the status of my order?

The tracking number will be sent via email notification. If you have not received the email notification, please feel free to contact our customer service.

Can I still return the products?

Yes, you can. The return period is 30 days from the date you get the product. We will return the refund to you after receiving the return product, which may take 2-3 business days to reflect on your account, depending on the payment method used.
Disclaimer
During the holidays, your packages may not be delivered on time. In this case, please take a little patience or contact us if you don't get the product after the holidays.
Contact us:
Hello customer. Welcome to LIONPAPA online store! We will keep in touch with all our customers.
Please differentiate your order to get straight fast service.
Email: service@lionpapa.com
LIONPAPA will continue to explore ways to support communities and ensure customer satisfaction. Thank you for your understanding and support. Let us stay together.
Q: Does this have a removable stainless steel bowl?
A: Yes, we have two bowls: ABS material bowl and a removable stainless steel bowl.
Q: Is there a way to switch it to factory settings? I recorded my voice but now I want it to be silent.
A: If you only want it to be silent, then I suggest you to record a blank voice, because switching to factory settings will reset all settings. Just follow the manual to record.
Q: Does it require Wi-Fi?
A: No, it doesn't need WIFI, all setting are on the pad.
Q: I was wondering if the lid is secure and stays in place well? or is it fairly easy to get off if it is knocked over?
A: Yes. For humans, you need to press the food tank buckle with the thumbs of both hands and push it up to open the lid, which is difficult for kittens to do. So it can prevent cats from opening the lid and stealing food during non-mealtime.
Q: If the power goes out in my house will the feeding schedule need to be reset, or is it unaffected?
A: No, you don't have to reset the schedule. This feeder has a built-in dual power supply, which can keep the program memory for you after a power failure, without having to reset it.